we want all food to be eaten
Did you know that food waste accounts for more global greenhouse gas emissions than aviation? The problem with throwing out food is that all the energy and resources used to produce it are wasted. What's more, if food rots in landfill, it produces methane, which is a greenhouse gas more potent than carbon dioxide. 
That's why tackling this problem has been one of our priorities. We were one of the first supermarkets to commit to the Food Waste Reduction Roadmap, created by sustainability charity WRAP, in 2018. All of our own-brand suppliers have now signed up to it.
The Roadmap works with businesses to encourage them to make waste-saving changes to their shops and supply chains, in order to reach the target of reducing food waste by 50% by 2030.
This builds on our previous commitment to the Courtauld Agreement, launched in 2015, which initially aimed to reduce food waste by at least a fifth by 2025, but this has now been extended to join WRAP's UK-wide mission to halve food waste by 2030.
Thanks to our partnership with the charity FareShare, which began in 2017, we have been able to turn surplus food in our shops into meals for those in need. Leftover food in stores is scanned, using the FareShare app, so that local charities can pick it up. Anything leftover after that is offered to our Partners.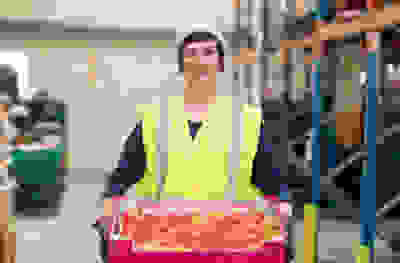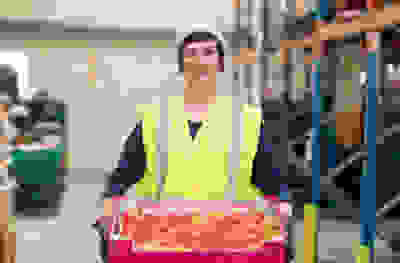 Any surplus food in our shops is collected by FareShare, and redistributed to charities 
HOW We're HELPING to halve UK food waste
Since we started working with FareShare in 2017, we have donated over 7 million meals to good causes — that's 3 million kilos of food, that have saved nearly 9.5 million kilos of CO2 being produced.


We launched our A Little Less Than Perfect range to avoid fruit and vegetables being thrown out because of their appearance. This wonky fruit and veg, including apples, onions, carrots and strawberries, may look unusual, but it's grown to our usual high standards and always tastes good. 
 

To prevent meat being wasted, we buy whole animals from our livestock farmers. As a result, we stock 'forgotten cuts' such as pig's cheek, beef short ribs and calves' liver to help our customers become more sustainable meat eaters. 


By looking closely at our supply chains, we have been able to identify areas where food is wasted, then prevent it. One of our suppliers, Worldwide Fruit, analysed its supply chain and made changes that resulted in it being able to give away three tonnes of extra apples to charity.


As well as volunteering at 22 regional FareShare centres, to support their food redistribution network, we hosted UK-wide Community Feasts in 2019, which were an opportunity to bring people together through FareShare's charities. 


Over Christmas 2020, we raised more than £3 million for FareShare and our other charity partner, Home-Start, thanks to our Give A Little Love campaign with John Lewis.



We're a strategic partner of Food Waste Action Week and we're committed to helping customers reduce food waste.



LET'S WORK TOGETHER
 
Our habits at home matter, too, even more than you might realise. 70% of all food wasted in the UK takes place in households, according to WRAP. Whether it's soggy salad forgotten in the fridge, uneaten meals that are scraped off our plates, or bread that doesn't make it. Make the most of every last mouthful with our tips, ideas and recipes.
Finding solutions to a global problem

One third of the food produced worldwide is wasted, and the energy and resources used contribute to climate change. If global food waste were a country, it would be third after China and the US in terms of its carbon output. 
To see our food waste figures in full, find out more from the latest John Lewis Partnership Ethics & Sustainability Progress report.
Bring your own containers
Unpacked offers customers the chance to shop using a lot less packaging
We're reducing unnecessary plastics
All own-brand packaging will be reusable, widely recyclable or home-compostable by 2023
Join the reusable revolution
Bringing your own bags has a greater environmental benefit than bags for life