Plastics, packaging and recycling
We're eliminating unnecessary plastics
In 2021 Waitrose topped the Greenpeace plastic footprint league of UK supermarkets for the second time in a row. But we know there's more to do. We're continuing to remove unnecessary packaging in our supply chain where we can, and introduce alternative materials to make recycling easier.
We've switched to clear caps on our milk bottles, because unlike coloured ones, they can be recycled back into food grade packaging.
Our pledge that all own-brand packaging will be reusable or made from widely recyclable or home-compostable material, has been brought forward by two years to 2023. So far, 86% of our own-brand packaging meets that goal.
In 2019, we reduced plastic packaging by 4%, and the volume of all packaging by 2.6% despite an increase in sales. That progress builds on past achievements: between 2009 and 2016, we reduced our packaging by almost 45%. We're also removing single-use plastic bags – find out more here.
Hard-to-recycle black plastic ready-meal trays have been replaced by coloured ones made from recycled polyethylene terephthalate bottles
Action on plastics in our shops and supply chain
We stopped providing disposable coffee cups in our shops in 2018, saving the use of 52 million in that year alone. Disposable plastic drinking straws are no longer sold at Waitrose and we have switched our plastic stem cotton buds to paper. In 2016, we became the first supermarket to ban the sale of products containing microbeads. 


Using plastic from the Prevented Ocean Plastic programme in some of our packaging since 2020 has saved an estimated 100 tonnes being washed into the ocean. Discarded plastic collected within 30 miles of coastlines at risk of ocean plastic pollution is used in the EcoLogical range, ready meal trays and punnets for fresh fruit.
   
We've removed the plastic wrapping from multi-packs of Essential baked beans, tinned tomatoes and sweetcorn to save 18 tonnes of plastic a year.


We reduced plastic in our British strawberries packaging by almost 17 tonnes in 2021 when we trialled a more lightweight punnet made from 80% recycled material. Its 'cushioned' design eliminated the need for a separate bubble pad, and the glue that holds it in place. A linerless kiwi punnet made from renewable-sourced board and paper that's 100% recyclable is being trialled. 
  
Hard-to-recycle black plastic ready-meal trays have been replaced by coloured ones made from recycled polyethylene terephthalate bottles. The colour varies between pink, red, green and blue, depending on the materials used. The trays are made by a packaging solutions company called Faerch UK, and introducing them prevents 500 tonnes of plastic going to landfill.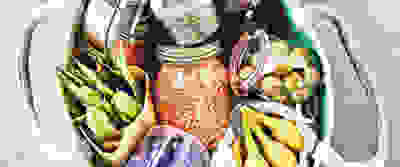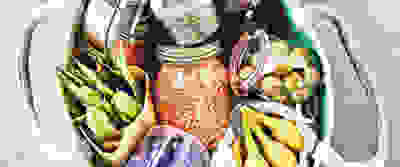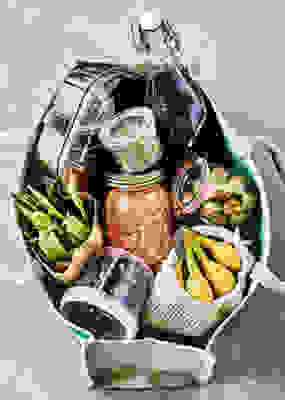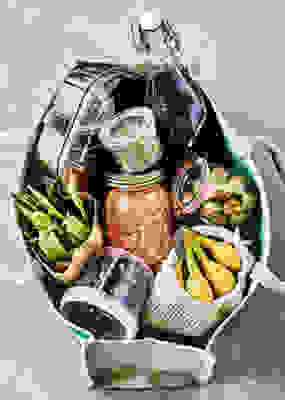 Unpacked started as a trial in 2019 to test how customers might be prepared to shop differently. Refillable options 


We halved single-use plastic on our own-brand Easter eggs and confectionery in 2021 by using packaging made from 80% recycled materials.  Introducing a recyclable cardboard base to our made-to-order sandwich platters has saved the use of 30 tonnes of single-use plastic, and reduced their overall packaging by 65%.


We were the first UK supermarket to achieve Fine to Flush certification for our own-label Moist Toilet Tissue Wipes. The plastic-free wipes were approved by WRc, the independent technical experts who developed the 'flushability' standards with Water UK to make sure certified wipes break down quickly and easily in the sewer system.


We're members of the Global Ghost Gear initiative, which aims to protect marine life and minimise plastic pollution from abandoned fishing equipment.

Karen Graley is leading the mission to reduce single-use plastics in our packaging
"Making sure our packaging works and is fit for purpose is just part of my job. The other part is ensuring we meet our targets for making it as environmentally friendly as we can," says Karen Graley, packaging innovation manager for Waitrose. "We've pledged that by 2023, all our own-label packaging will be widely recycled, reusable or home compostable, so we're working with our suppliers and packaging manufacturers, looking at alternatives to plastics. We get suggestions from customers too, and we read everything – you never know where a good idea might come from.
'We get suggestions from customers, and we read them all – you never know where a good idea might come from'
"It's an ambitious target. Every time we change a piece of packaging, we have to make sure that it'll work as well as the old one. It can take a year before we get to the final stage, sending a mock-up on the journey from the producer to the store. But it's exciting – there's never been a better time to be doing this job. My proudest moments are when I see new packaging on shelves and customers looking at it and picking it up. I don't think I'll ever stop getting a kick out of that."

Bring your own containers
Unpacked offers customers the chance to shop using a lot less packaging
Join the reusable revolution
Bringing your own bags has a greater environmental benefit than bags for life
We want all our food to be eaten
How we're reducing food waste in our shops, deliveries and supply chain