We'll never compromise our own standards – whatever the outcome of future trade deals
At Waitrose, we place the highest value on animal welfare, environmental responsibility and food quality. That's why you'll see the Red Tractor logo on so much of our packaging – but that's only the minimum standard we set.
For many decades, we've worked with our farmers to develop own-label products that go above and beyond minimum requirements in the UK.
We're pleased to see that the government has now set up a trade and agriculture commission to advise ministers on the UK's approach to future trade agreements. This will hopefully mean that the world-leading standards British farmers can achieve will be preserved into the future – which would be good for British farmers, good for British consumers and good for our customers.
But regardless of what happens, we have pledged that we will never lower the high standards you have come to expect from us across all our own-label products. We also pledge to continue demonstrating to you why our difference counts for more when it comes to quality food.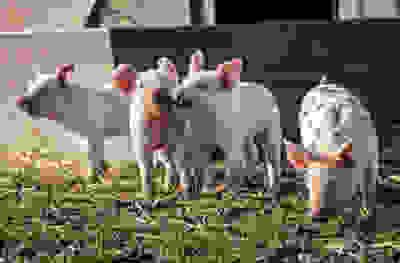 All pigs reared for Waitrose are born outdoors
Happy animals make business sense
We believe that animal welfare and good business go hand in hand. That's  why we ensure that high welfare standards apply throughout the animal's life. Not only is this the right thing to do, it enhances the quality of the meat we sell.
We are committed to providing the animals in our supply chain with an enriched environment so they can display their natural behaviours. This has led animal welfare organisation Compassion in World Farming (CiWF) to consistently judge our overall standards to be better than those of 27 other retailers in Europe, including 10 in the UK.
We give our dairy cattle a minimum of 120 days to graze in open fields, and often much longer if weather conditions are suitable. Although there is no set requirement under Red Tractor standards, our beef cattle also spend the majority of their lives outside.
All our pigs are born outdoors and we never use farrowing crates or sow stalls.
All our UK lambs stay with their mothers from birth until weaning. After this, they stay together as a group in fields, feeding primarily on grass and forage.
All our hens are free range and enjoy an outdoor environment with tree planting on at least 5% of the range area. They also have access to perches and pecking spots in the houses where they are kept at night.
All our chickens have access to plenty of natural daylight and environmental enrichment, including perches and bales to peck at in their sheds.
Free range hens enjoy exploring an enriched environment
Higher welfare chickens across all ranges
All our chickens come from dedicated farmers in Northern Ireland. The birds reared for our animal welfare award-winning Essential Waitrose chicken has more space, natural daylight and plenty of environmental enrichment to encourage natural behaviours such as perching and dust bathing.
The chickens do not require washing with chlorine because of the high standards they are reared to on the farm. That will never change.
We stipulate a maximum stocking density for poultry of 30kg/m2 – 20% more space than the UK industry standard.
We are one of only two UK food retailers to have signed the European Chicken Commitment, which pledges to only sell chicken meat from slower grown breeds by 2026.
It's not just our fresh chicken that is farmed to high standards. All chicken used as an ingredient in our ready-meals – from our chicken tikka masala to our chicken and mayo sandwiches – is higher welfare from our dedicated farmers in Northern Ireland.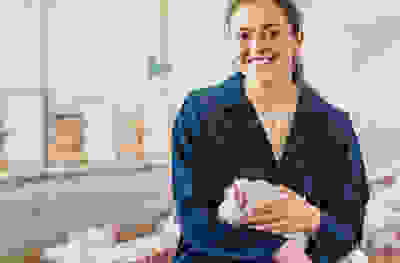 Emily McGowan rears higher welfare chickens for our Essential Waitrose range
Sustainable farm management
All our certified growers use responsible farming techniques, including sustainable crop rotation where appropriate, wildlife habitat creation and the sustainable use of pesticides.
All our UK fresh fruit and vegetables are grown 

to LEAF Marque Standards – we are the only British supermarket that makes this a requirement.
Waitrose was the first British supermarket to sell organic food in 1983. Nearly 40 years later, we continue to lead the field with Waitrose Duchy Organic – the UK's largest own-label organic food and drink brand.
We're exploring ways to reduce our carbon footprint by using crops available on farms as feed
Strict controls on antibiotic use
We have a strict policy on the use of antibiotics. Healthy animals are never given antibiotics on a routine basis. They are administered only to treat animals that are sick or have preexisting conditions.
We were the first supermarket to publish our antibiotic usage data in detail and the only one in the UK to disclose antibiotic usage annually to ensure the high standards our customers expect are consistently met.
Our work in this area – especially to reduce overall antimicrobial use – was acknowledged when we won the 2018 Antibiotic Guardian Awards. We are also ranked as best performing supermarket on antibiotic usage by the Alliance to Save Our Antibiotics.
Our beef cattle are reared without the use of growth hormones
Animals that are reared naturally
The use of growth promoters is strictly prohibited across all our livestock supply chains, with feed typically composed of naturally sourced ingredients.
No growth hormones are used at any stage of our beef production and that will never change.
In 2018, we launched the Sustainable Forage Protein project, a five-year project co-funded by Innovate UK to identify the potential for reducing production costs and lowering carbon footprints by using crops available on farms – in turn giving livestock the most sustainable diet possible.
A better life
The standards we insist upon in farm animal welfare are award-winning
A future for all
We are committed to bringing you quality food in the most responsible way
Partners Against Waste
We are committed to looking after the environment with better packaging and less food waste
Healthy food for everyone
Eat a balanced diet on any budget with expert advice and products carrying the Good Health label