Herds reared with
MINIMAL interference
Our veal, venison, poultry and game is supplied by farmers who share our values on animal welfare. Whether it is calves, deer, quail, duck, pheasant, partridge, wood pigeon, goose or guinea fowl, all are farmed to the highest standards of animal welfare. 
In fact, our standards are some of the best in the world. That's why we've won the Compassion in World Farming award for best retailer in Europe for farm animal welfare three times in a row.

Look out for our animal welfare marque on our own-label meat and fish.

"We started producing venison by mistake," says George, a venison farmer from the South East.
"About 40 years ago, we were sheep farmers, but we began exporting deer to New Zealand and decided to keep a few because we really enjoyed farming them. We had maybe 30 or 40 then. When venison was in vogue in the 1980s, I probably managed 1,500. Now it's around 250. 
"The animals are mainly outdoors – the calves go into sheds over winter to protect them from inclement weather, but in spring when there's grass, they're straight back out. They like good-quality grass, so we do a lot of reseeding every year.
Farmer George from the South East
'We've been experimenting with red clover, which they love. They naturally fertilise the fields too, in a much more sustainable way than using chemicals'
"I prefer farmed venison to wild; it's a very dense meat with a lot of flavour but doesn't have so much of that 'gamey' taste. If I'm trying to convert someone to venison, I just cook it for them! I probably first tried it in a casserole, but that was a long time ago. I love fillet wrapped in pastry – venison Wellington. When I've got friends round for dinner, that's what they expect to be fed."

"Waitrose pioneered UK-reared high welfare veal, and we've been supplying them since the early 90s – we wouldn't want to work with anyone else," says Farmer James.
"Some of the calves we rear are the male dairy-bred calves from Waitrose's own dairy farms, which means we know exactly where they've come from and how they've been cared for.
"The calves come to us at around 21 days old, and because the dairy farmers work with a feeding system that's very similar to ours, they easily adapt to their new surroundings and settle in very quickly.
"People often say to me that this isn't what they thought a veal farm would look like – it's very different from the majority of continental systems they might have read about. All the calves live in large, airy barns with plenty of space, in groups of between 20 and 40 and with lots of straw laid on the floor as well as natural light and ventilation. 
"Their diet is milk and a cereal-based feed that we make ourselves, and they can eat and drink whenever they like. We'll check them at least twice a day – there's at least one person for every 120 calves.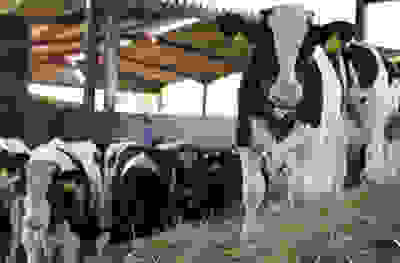 Farmer James has been supplying Waitrose with veal since the 1990s
'It's funny how the calves get into routines. In the mornings they'll all lie in the sun... then seven in the evening is happy hour, when they run around and play'
"The best part of my job is seeing good, healthy animals in the yard – when you have worked with cattle for a long time, you can tell they are happy and contented just by looking at them. And when they leave the farm, I know I've done my best for Waitrose and my best for them."