your carrier bags beat ours
We're phasing out our 10p bags for life in store. And we have removed the option to have orders packed in bags for all online grocery deliveries and collections, which will save 40 million bags being produced a year. 
These changes are being made as part of our commitment to eliminate all unnecessary single-use plastics and, where possible, only use plastic that can be reused, recycled or composted at home.
In March 2019, we removed all 5p plastic bags from our stores and replaced loose fruit and vegetable bags with a home-compostable alternative.
It was a big step forward, but our research shows that the 10p plastic bags for life, created to be reused time and time again, were increasingly being used as single-use items, which has a damaging effect on the environment.
That's why we're asking you to supply your own bags when you shop.
If you forget, we have a range of reusable bags priced from 50p, but your bags really do beat ours. For deliveries, the removal of bags coincides with our drivers being able to re-enter your home, saving you from any heavy lifting. If you prefer, our drivers will happily help you pack your shopping into your own bags on your doorstep. You just need to have them ready.
Working together on this is the right thing to do to help save our planet.
Find out more about how these latest changes will affect how you shop below. There's more information on how we're reducing unnecessary plastics here.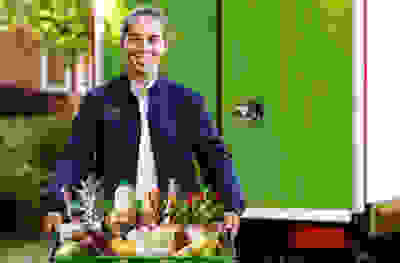 Delivery drivers are once again allowed to bring groceries into your kitchen
What if I forget to bring a bag? We have a range of reusable bags to buy in store, including a new durable plastic one, as a last resort. Reusing bags when you shop brings the greatest environmental benefit, because manufacturing a plastic bag uses raw materials, energy and water. You can view our range of long-lasting carriers here.


Why have you introduced a new plastic bag? Our new 50p plastic bags are twice as durable, fully recyclable and made from 100% recycled content, which means less plastic going into landfill and more waste being repurposed. We opted for a new plastic bag, because other non-plastic alternatives you may find elsewhere use significantly more energy to create, transport and may only be suitable for reuse a handful of times at most.
 
How is my delivery affected by the removal of bags? We're removing the option to have your order in bags for all online grocery deliveries and collections. The change coincides with drivers being allowed to re-enter your home, so they will happily bring your groceries into your home or a location of your choice. If you prefer, you can take the crates into your home or unpack them into your own reusable bags on your doorstep. Just let your driver know when they arrive with your delivery and they will be happy to help you.


What about potential leaks and spillages in my grocery delivery? To protect your shopping, we'll pop certain items in a home-compostable bag. You can reuse it to line your food waste caddy, or add it to your compost or green waste bin.
 
How is my online grocery order for collection affected? We'd like you to remember to bring your own bags. But don't worry if you forget, we have a range of reusable bags in store to buy as a last resort. A Partner will be happy to help with packing.


What about if I shop in store, and have my groceries delivered? You are welcome to provide your own bags at checkout.


My current Bag for Life is damaged – can I exchange it for the 50p bag? 

Whilst we no longer provide a Bag for Life, if your 10p Bag for Life is damaged, we can refund you the cost of the 10p bag and offer you the opportunity to purchase a 50p bag; therefore, you would only pay the difference of 40p.
Why we don't offer paper bags

It may seem like a good alternative because paper is recyclable, but manufacturing them uses up a lot of energy and water, compared to plastic bags. And because it is "unlikely the paper bag can be regularly reused the required number of times due to its low durability", according to The Environment Agency, we're encouraging shoppers to opt for durable bags and reusing them many times.
 
Money from the sale of 5p plastic bags went to a range of projects to tackle plastic pollution
Plan Plastic: £1 million to tackle plastic pollution
Projects funded by Waitrose have made a positive difference to the environment, according to a report. Plan Plastic – The Million Pound Challenge was announced in 2019 to support innovative solutions to tackling plastic pollution.
The £1 million fund, from the sale of 5p carrier bags, was used to provide grants of £150,000 to £300,000. The projects were selected with support from environmental charity Hubbub. The five projects chosen for funding have made a real difference. 
Mussel Power, from Plymouth Marine Laboratory, demonstrated the potential of mussels to help stem the flow of microplastics from polluted estuaries and coastal water. It paves the way for this nature-based solution to be put into practice and further research into nature-based solutions to the problem of microplastics.


Community Bio-Recycling, from Onion Collective and Biohm, explored the effectiveness of mycelium, the root-structure of mushrooms, in breaking down and digesting plastic. A new bio-recycling facility created jobs and helped to regenerate an old paper mill in Watchet, Somerset.


Enviromentrual, from Wen (Women's Environmental Network) and City to Sea, delivered taboo-busting education to students, including training 724 teachers and nurses to deliver workshops exploring the social and environmental issues of menstruation, while raising awareness about sustainable period products. 


Safegear, from Blue Marine Foundation, developed a cost-effective beacon for fishermen to prevent lost fishing equipment becoming marine plastic pollution. The Blue Marine Foundation trialled more than 100 beacons with fishermen in the South West to find a simple-to-use solution. 


Message in a Bottle, from the Youth Hostels Association, eliminated the need for half a million single-use plastic bottles per year by providing water fountains for anyone enjoying the outdoors. 
We also donated to the Blue Charter Fellowships, and Waitrose is a signatory of the UK Plastics Pact.
Carrier bags reporting 2020/21
Bring your own containers
Unpacked offers customers the chance to shop using a lot less packaging
We're reducing unnecessary plastics
All own-brand packaging will be reusable, widely recyclable or home-compostable by 2023
We want all our food to be eaten
How we're reducing food waste in our shops, deliveries and supply chain