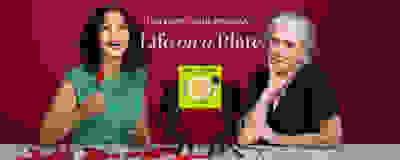 Episode 1
YOTAM OTTOLENGHI & NOOR MURAD

14 OCTOBER 2021
In the first fabulous episode of season 4, Yotam Ottolenghi and his co-author Noor Murad chat to Yasmin and Alison about their new book, Shelf Love, which focuses on using store cupboard ingredients to create delicious everyday meals. They also talk about the diverse international influences reflected in their food, their exhaustive testing process, and the power that a good recipe has to make a real difference to someone's day.
Shelf Love is out now. You can follow them both on Instagram, Yotam @Ottolenghi and Noor @noorishbynoor. 
Episode 2
FI GLOVER & JANE GARVEY

21 October 2021
Broadcasting virtuosos Fi Glover and Jane Garvey are our guests this episode. They share with Yasmin and Alison the secrets of a good interview and describe the pride they feel at the success of their own podcast, Fortunately… with Fi and Jane. They also reminisce about the need for cheese, the joy of great gravy and the pleasures of a mini deep fat fryer…
Did I Say That Out Loud? is out now. You can follow them both on Twitter, Fi @fifiglover and Jane @janegarvey1.
Episode 3
RUBY TANDOH

28 OCTOBER 2021
Brilliant young food writer Ruby Tandoh is the guest for this week's episode. Ruby grew up in Essex as part of a big family, eating simple, hearty food and poring over cookbooks in her spare time, before arriving on our TV screens in 2013 when she reached the final of The Great British Bake Off aged only 21. Since then, she has carved out a place as a unique and utterly refreshing voice in the world of food: frank and fearless, her writing punctures pretension, calls out snobbery and questions convention. In this interview, Ruby explains to Yasmin and Alison why she tries always to focus on the pleasure and joy associated with food – rather than guilt or judgement, rules or routines – and how she has striven to make her latest book, Cook As You Are, as inclusive and accessible as possible.
Cook As You Are in out now. You can follow Ruby on Instagram @ruby.tandoh and Twitter @rubytandoh.
Episode 4
CHRIS PACKHAM

4 November 2021
This week, Yasmin and Alison enter the world of environmentalist and campaigner Chris Packham. With wit, warmth and enthusiasm, he describes his absolute passion for the natural world and outlines how he believes we can move towards a more sustainable future. He also talks about his work advocating for autistic people, reveals his deep appreciation of his partner Charlotte's cooking, and shares tales of his beloved poodles, Sid and Nancy, and their nightly digestive biscuit habit...
Autumn Watch is available on BBC iPlayer. You can follow Chris on Instagram @chrisgpackham2 and Twitter @chrisgpackham.
Episode 5
KIMBERLEY WILSON

11 November 2021
This week's guest is chartered psychologist and nutritionist Kimberley Wilson. In addition to working in private practice, lecturing, podcasting and co-hosting Radio 4's Made of Stronger Stuff with Dr Xand van Tulleken, Kimberley has also found time to write How to Build a Healthy Brain, a book that makes clear the crucial connections between what we eat and how we think, feel and remember. Kimberley speaks passionately to Yasmin and Alison, and shares her love of hot tea, porridge and plum crumble.
You can follow Kimberley on Instagram @foodandpsych and Twitter @FoodAndPsych. How to Build a Healthy Brain is in bookshops now and Made of Stronger Stuff is available from BBC Sounds.
Episode 6
Diana Henry

18 november 2021
We're thrilled to welcome the incredible Diana Henry to Life on a Plate for this episode. She is one of our most beloved food writers, delivering a steady stream of delicious recipes into homes across the land via her cookbooks (including Simple and How to Eat a Peach), Telegraph columns and daily Instagram posts. Legendarily hard-working and prolific, Diana experienced severe illness during the past two years: it slowed her down a little but has not dimmed her spirit one bit. In this conversation with Yasmin Khan and Alison Oakervee, she talks about those frightening times, but also about her childhood in Northern Ireland, her first experiences of cosmopolitan London in the 80s, and the people, places and ingredients that inspire and delight her now.
You can read Diana's weekly column in Waitrose Weekend and follow her on Instagram and Twitter @dianahenryfood.
EPISODE 7
Reggie Yates
25 NOVEMBER 2021
Actor, DJ, presenter, photographer, author, acclaimed documentary-maker and now a feature film director – there aren't many things that Reggie Yates can't do! In this episode, he talks to Yasmin and Alison about his career to date and how important it has been to stick to his guns when it comes to authenticity and speaking in his own voice. He reminisces about the West African food he grew up with, and describes his current work with Ghanaian fruit and ice cream company Blue Skies, as well as revealing some interesting ideas about how to eat crisps and chocolate (at the same time) and the great plantain pronunciation debate. Reggie also chats about his brilliant new film, Pirates, launched on 26 November, which celebrates UK Garage culture at the turn of the Millennium.

You can follow Reggie on Instagram and Twitter @regyates
EPISODE 8
Ashley Jensen
2 DecEMBER 2021
For this episode, Yasmin and Alison talk to the brilliant, funny and down-to-earth Scottish actor Ashley Jensen, known for her roles in Extras, Ugly Betty, Catastrophe – and star of the Waitrose 2021 Christmas ad! She chats about Heston's mince pies and her taste for sprouts (with pancetta), and shares tales of growing up in Scotland in the 1970s, enjoying her grandmother's mince and tatties and a range of classic crisps including Frazzles and Monster Munch. She describes her no-nonsense response to Hollywood glitz and glamour (and her rejection of the idea that actresses must 'stay young') and also expresses her admiration for footballer and campaigner Marcus Rashford and his work tackling child food poverty.