We pay our pig farmers a FAIR PRICE

Times are difficult for British farmers right now – pig farmers in particular have been pushed to the brink by the loss of markets, labour shortages and the rocketing price of feed and production. So we're investing £16 million in their long-term future.
Read Waitrose executive director James Bailey's pledge to pay British pig farmers a fair price here.

If you've ever wondered what a contented pig looks like, look no further than Michael and Ian Baker's Norfolk farm. Living in the open air, where they can dig about and wallow in mud as they please, these are very obviously happy animals. "We give them a good quality of life," says Michael, "with lots of space to roam."
The Baker brothers' free-range pigs live in small herds, each on a two-acre plot, with a canvas tent for protection from sun and rain, straw beds and access to fresh water whenever they want it.
On David Homer's farm in Wiltshire, the cows are busy doing what cows like to do: grazing on lush, green grass, lying down to chew the cud and, from time to time, lifting their tails to help David out with a supply of fertiliser. ''You only have to look at them to see they're happy to be out,'' says David. ''They like being in the fresh air and grazing on the fresh grass.''
Back in 2016, David's cows featured in a television advert for Waitrose, highlighting our grazing promise.
''We keep an eye on the weather and the ground conditions, and how much grass is available, but they're usually outside by the beginning of March,'' says David. ''That first day, you can see how pleased they are to get out – they bounce about with their tails up, and hop and skip around. Then they'll graze through the summer into the autumn, and we won't bring them indoors until it gets cold and wet, around the first week of November.''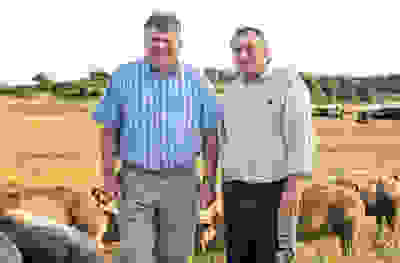 Michael and Ian Baker are committed to trying out ways to improve animal welfare on their Norfolk farm 
'It's very satisfying to see the result of all that hard work – healthy, contented stock'
"In the 30-plus years the farmers have been supplying Waitrose, Ian and Michael have raised their already high welfare standards. "We've found better ways to do things and keep trying to improve," says Michael. 
Switching to feeding the sows from a long trough, rather than from the ground made a big difference. "It means in winter the sows can easily get to the food. It's not just fired across a muddy field where it gets tramped in," says Michael. It also makes sure the pushiest sows don't – excuse the pun – hog the food. "Because they're all eating in a line, it's easier to check each sow is feeding," says Ian.
"Our team here on the farm put in a lot of hard work and dedication, looking after the pigs the way we do," says Michael. "It's very satisfying to see the result of all that hard work – healthy, contented stock."