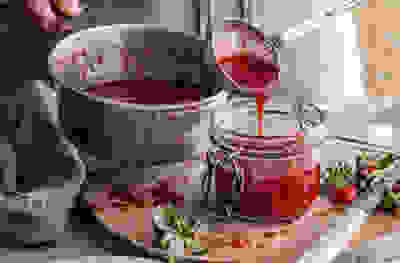 Easy strawberry & vanilla jam
Elly Curshen's delicious jam is a great final resting place for strawberries that are anything from under- to overripe. 
Makes

1

Course

Breakfast

Prepare

5 mins

Cook

30 mins

Total time

35 mins

Plus

cooling and chilling
Ingredients
350

ml

strawberries, hulled

120

g

golden caster sugar

1

tsp

vanilla bean paste, or the seeds from 1 vanilla pod

1

lemon, 2 tbsp juice
Method
Prepare your strawberries. Quarter them for a slightly chunky jam, roughly chop if you prefer it smoother. Combine the strawberries, sugar, vanilla and lemon juice in a large saucepan. Stir well to thoroughly combine.

Put the pan over a high heat and bring to a boil, stirring frequently. Mash the strawberries a little with a potato masher.

Reduce the heat and simmer until thickened, stirring occasionally, for 25-30 minutes. Keep an eye on the pan to make sure the jam doesn't Easy strawberry & vanilla jam If you need to use some strawberries up, I've got a few ideas for you. A delicious jam is a great final resting place for strawberries that are anything from under- to overripe. It is nicely balanced with a good amount of lemon juice (the acidity helps the pectin naturally released from the fruit to set) and the addition of some vanilla, a lovely classic accompaniment to strawberries. The method is simple and doesn't require any special equipment, specific temperatures, testing for a set or sterilising of jars. If your jam doesn't set firm, don't panic. It will still be great drizzled over desserts, into yogurt or for topping toast. Use the base recipe to make jam from various berries, plums and peaches and the like. Add spices, herbs, or zests to create your own flavour combination. How about creating a new small batch of jam every few weeks, depending on what needs using? @ellypear STRAWBERRIES Too good to waste with Elly Curshen bubble over or start to burn on the bottom. The jam will thicken a little more once cooled, so remove from the heat when it's almost as thick as you want the finished jam to be. As it cooks, sterilise the jar. Wash a 250ml jar and lid, dry and put them into the oven for 10 minutes at 150ºC, gas mark 2.

When the jam is ready, cool slightly, then pour into the jar. Place the lid on and allow the jar to cool completely at room temperature, then refrigerate for 24 hours. The jam will thicken more during this time. It can then be stored in the fridge for up to 1 month.
Cook's tip
Spicy strawberry salsa
Make a fruity alternative to Mexican-style tomato salsa (pico de gallo). Mix a handful of chopped strawberries with sliced red onion. Toss with pickled jalapeños and roughly chopped coriander. Add a good squeeze of lime and salt to taste. Great with tortilla chips.
Strawberry barbecued eggy bread
Lay 2 slices of thick bread in a small, wellbuttered roasting tin. Crack 2 medium eggs into a jug, mix with milk (use just a little less than the volume of egg) plus a dash of vanilla extract, a pinch of cinnamon and a good drizzle of honey. Pour over the bread, then soak for 1 hour. Top with sliced strawberries and flaked almonds. Bake at 180ºC, gas mark 4 (or place over indirect heat on a barbecue, with the lid on) until set, or about 30 minutes. Serve with a dusting of icing sugar.
Roasted strawberries
A good way to deal with any berries that aren't as sweet as you'd like. Toss hulled and halved strawberries with a generous sprinkling of caster sugar and a few drops of vanilla extract. Spread out on a lined baking tray. Roast at 180ºC, gas mark 4, for 30 minutes or until caramelised and juicy. Delicious with ice cream.
Nutritional
Typical values per item when made using specific products in recipe
| | |
| --- | --- |
| Energy | 171kJ/ 40kcals |
| Fat | 0.5g |
| Saturated Fat | 0.1g |
| Carbohydrates | 9.6g |
| Sugars | 9.6g |
| Fibre | 0.5g |
| Protein | 0.2g |
| Salt | 0g |