We believe that needs to change, so we're raising money to support young people from care through our Building Happier Futures programme, in partnership with Action for Children, Who Cares? Scotland and Home-Start. Scroll down to find out what we're doing – or click below to donate now.
HOW WE'RE MAKING A DIFFERENCE 
Home-Start Lomond helped this mum when she needed it most.  

"My rock bottom was the day my children were put into temporary foster care. I didn't lose them because of my lack of love for them, it was because of my lack of love for myself.

"I was determined to get my children back and worked closely with social workers to make that happen. The day they were returned was such a relief, but it was also hard. 

"Laura from Home-Start came out to see me, and said she would match me with a volunteer. When I met my new volunteer Sarah, I felt relaxed. Having someone there to encourage and cheer me on has made the biggest difference to my confidence."
CELEBRATING CARE-EXPERIENCED PEOPLE

In February, care-experienced people got together to enjoy a night of dancing at the Carelidh, a ceilidh event organised by Who Cares? Scotland.
The Carelidh is a night when care-experienced people of all ages get dressed up, feel special and develop a sense of belonging – and this year, it was funded by Building Happier Futures. 

Who Cares? Scotland held an award ceremony at the event, where people including poet Lemn Sissay were recognised for their work challenging the stigma that care-experienced people often face.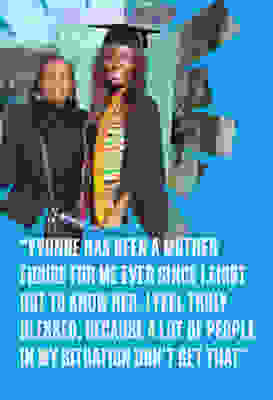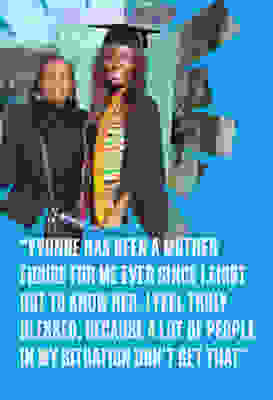 Briggit and Yvonne's story

How kindness and friendship changed the life of a child in care
At the age of seven, Briggit came to London from Ghana, with her teenage sister and dad. The two girls were left with their parent's friend, who had no legal responsibility for them, and they never heard from their dad again. They were soon placed in care and lived with a foster carer who Briggit, now 28, describes as an "amazing lady" she is still in touch with.

Yvonne was matched with Briggit through Action for Children's Independent Visitor scheme – a service which connects children in care with an adult volunteer, giving them the opportunity to build a trusting and supportive relationship through regular contact. For their first trip together, Yvonne took Briggit to the Science Museum, and the pair hit it off right away.
Briggit explains: "There was going to be an astronaut doing a talk on the day, and I was so excited for it. At the end he asked people to come up to get their books signed and Yvonne encouraged me to go up. From our initial meeting, there was something very motherly about her that I liked, and it's been like that ever since."
Now, 19 years since that first trip, Yvonne and Briggit have an unbreakable bond, something which they both describe as a 'mother and daughter' type of relationship. "Yvonne has been that mother figure for me ever since I first got to know her. She's supported me all the way through, and I feel truly blessed, because a lot of people in my situation don't get that."


Taking the next steps
We're helping young people from care into education and work. Because caring shouldn't stop at 18.
A bright future in the John Lewis Partnership

From our scholarship initiative to apprenticeships, we're helping young people from care to find careers at John Lewis and Waitrose. 
Speaking up for change
We're asking those in power to ensure fairer policies for young people in the care communities. 
Photographs are posed by models to protect the identities of the young people we're supporting.
Waitrose will gift 50% of your donation to Action for Children (Registered Charity Number 1097940; Scotland Registered Charity Number: SC038092), 20% of your donation to Who Cares? Scotland (Registered Charity Number: SCO26076) and 30% of your donation to Home-Start UK (Registered Charity Number: England and Wales 1108837 and in Scotland SC039172).*
*Minus 5% platform charges.