With its sunset-in-a-bottle colours, rosé was once reserved for summer days and warm evenings, but its different styles and versatility with food means people are enjoying it all year round. Find out about these popular pinks, including where they're made, what to serve with them and why they're pink, in this rosé exposé.

Where is rosé made?
Although its heartland is Provence, rosés are produced all over the world – including here in England and Wales – with different grape varieties. Spanish rosados are often made with Tempranillo for a more rich, dry texture or Grenache for its honeyed grapefruit flavours. Rosato is produced across Italy, with blush-coloured Pinot Grigio grapes for a smooth, fruity finish or with Primitivo for notes of jasmine and peach. Most of the American rosés use Zinfandel, in Argentina it's the Malbec grape – vineyards in Sussex, Kent and Suffolk often use Pinot Noir, and Rondo in the Vale of Glamorgan.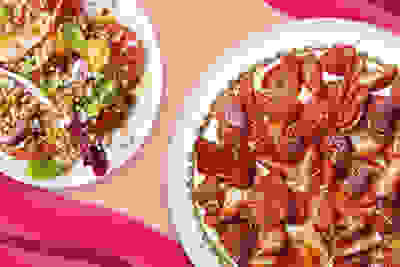 What food goes with rosé?
Just like red and white wines, there is a broad spectrum of textures and flavours of rosé. It can be dry or sweet, fruity or savoury, still or sparkling, and, with its dominant flavours of rose petal, honeydew, orange peel and strawberries, means there's a style for almost everything – or nothing, when enjoyed as an apéritif. Rosé Champagne or Prosecco are perfect for celebrations, but also for fish and chips, berry puddings and afternoon tea. Provencal rosé goes with seafood, salads, tomato-based and garlicky dishes. Try an American pink with Thai food, if you're settling down to cheeseboard, pour a Pinot Noir rosé, and for colourful start to the day, enjoy a South African or Kiwi rosé with brunch.

Why is it pink?
The colour comes when the red-grape skins mingle with the juice. Different red grape varieties combine to make rosé wines and, depending on the blend, the climate and soils (or 'terroir') of the vines and the time spent 'mingling' all lead to different blush shades. It's easy to presume that dark-pink tastes of morello cherries or cranberries and paler colours of strawberries and honeydew melon, but that's not always the case. Why not have a fun evening of tasting different shades of rosé from a single country or compare bottles from all over the world?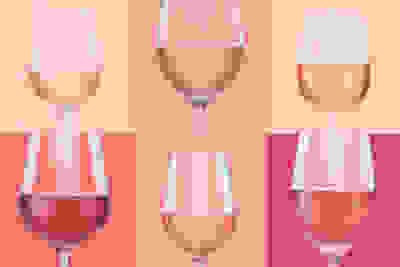 What is special about rosé from Provence?
This area of southern France has been associated with rosé since the 6th century BC when ancient Greeks sailed across the Mediterranean and planted the country's first vines, and where the grapes continue to thrive among wildflowers in the warm days, cool nights and 'mistral' sea breeze. The Côtes de Provence is the area's largest Appellation Contrôlée (AOC) and home to famous vineyards such as Château d'Esclans, makers of Whispering Angel, and Domaine Mirabeau, established by former Londoners Stephen and Jeany Cronk.

And there's more...
Find the complete range of rosés at Waitrose Cellar, our online shop dedicated to 1,600 wines, spirits and beers. You can search by country and region, choose organic or vegan and pick the size to suit your occasion – boxes for barbecues, magnums for parties and mixed cases for different dishes or to send as a gift.