The pleasures of solo cooking


Whether it's a quick working-from-home lunch or something nice to eat for a solo night in, we're fans of cooking for one
Turns out we're not alone, metaphorically speaking. When food writer Diana Henry found herself cooking for one, she says her first response was one of selfish glee. "Nobody told me what to make, I seasoned dishes the way I wanted to, I could yank the chilli up and buy luxurious ingredients. I'm not going to cook scallops for six, but a little plateful just for me. I'd come home – often picking food up on the way – put loud music on, pour wine and get out a pan.

"Cooking isn't just about feeding a family or a partner. It can be a happy solitary act too."

Diana Henry
"I love cooking for myself," enthuses Signe Johansen, food writer and author of Solo: The Joy Of Cooking For One (Bluebird, £16.99). "I can do it according to my likes and dislikes, whereas cooking for others can feel more of a performance."

Recipes from the book include a satisfying croque madame. "It's not an elegant dish," says Johansen, "but it's so tasty with its mixture of cheese, egg and spinach. It feels wholesome but it's also a little bit indulgent."
For some, cooking solo is a chance to experiment with flavours their partners aren't keen on. "I absolutely love anchovies and my wife detests them," says Dave Wall, head chef of the Unruly Pig in Bromeswell. "So they will be the seasoning for sure, perhaps on a simple bowl of pasta laced with chillies, garlic and copious quantities of butter." 
Chef Nathan Outlaw's wife Rachel dislikes hot food so he loves to make spicy curries and Thai dishes when she and their teenage kids are away, always using a recipe he's never tried before. Food writer Phylicia Jackson-Jones takes advantage of husband Steve's frequent travels to create new recipes, sometimes testing bolder flavours and combinations: "I can take my time when there's not a hungry man scratching at the kitchen door and I know I won't be torturing someone else with any failures."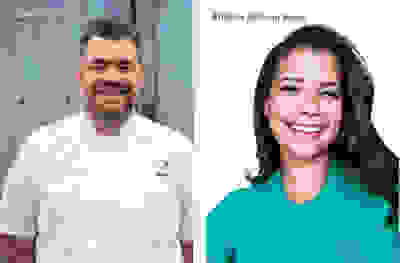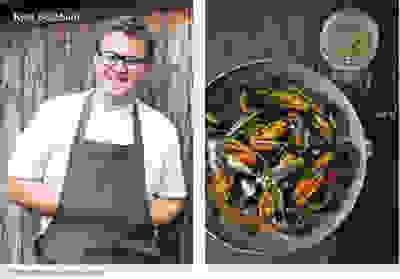 For chef Ryan Blackburn of The Old Stamp House in Ambleside, simplicity is key. "For me the best solo dinner has to be mussels with some good bread. I like to cook mine with a spoon of mild curry powder, some mead and cream. Use the bread to mop up the sauce and treat yourself to a glass of Galician Albariño. As this is a one pot dish the washing up is easy too, which is always a bonus!"
"During my research for Solo, I looked on social media to get a sense of just what people felt about cooking for one," says Johansen. "One of the things that struck me was the amount of people who said, 'I'm not single, but I really cherish the time when I'm on my own'. So, for me, it's about doing something for yourself – of nourishing yourself with a good meal and really savouring it."
HOW TO BE A SAVVY SOLO COOK
GET KITTED OUT
A small non-stick frying pan, saucepan and baking tray will all come in handy for cooking single-portion recipes. Also invest in a good set of food storage containers for leftovers. Pyrex ones are a great choice; they're safe for reheating food in, and because they're see-through, you won't forget what's been packed away.

DOWNSIZE
Standard 400g cans are often too much for one-serving recipes, so buy smaller tins or resealable jars where possible. Swap canned pulses for dried, so you can cook only as much as you need (though remember they might need overnight soaking before cooking). Choose small onions – or go for shallots instead, and stock up on coconut milk powder, which allows you to make up small quantities of coconut milk.
REINVENT LEFTOVERS
An extra portion is always handy to have, but today's dinner can also be turned into something quite different for tomorrow. Tonight's tomato pasta sauce could be transformed into a weekend shakshuka, or leftover teriyaki salmon and broccoli might be flaked and chopped into a breakfast omelette (whisk the eggs with a little soy sauce and sesame oil).

LOVE YOUR FREEZER
A well-stocked, well-organised freezer is the solo cook's best friend. Batch cook stews, soups and curries to pack up into single portions, and freeze individual treats such as cake slices or brownies. Flavour- packed ingredients such as ginger, chopped chillies, garlic and herbs all freeze well, while leftover wine can be turned into ice cubes  for next time you need a splash in your cooking.
MAKE A PLAN FOR YOUR VEG
Fresh produce doesn't always last very long, but if you plan carefully, you can enjoy the same vegetables throughout the week without mealtime repetition or waste. For instance, a cabbage and a red onion might find their way into a cheesy pasta sauce one night, a coleslaw the next, and a stir-fry at the weekend.

EXPERIMENT WITH NEW INGREDIENTS
Any solo cook is likely to rely on a few key items: eggs, baking potatoes and pasta, for example, are all handy for quick, one-person meals. But it's important to keep things varied and even experiment a little to ensure that cooking remains fun, engaging. and healthy. Challenge yourself to cook one new recipe every week or buy an ingredient that's new to you to use in dishes.


All Waitrose products are now available only in our stores and at waitrose.com. Launched in 2000, waitrose.com now delivers to nearly 90% of UK postcodes. Across the country, Partners in shops handpick customer orders and deliver them directly, and in London the service is supported with two fulfilment centres.