Spanking-fresh salmon, meaty tuna, pearly-white cod or quick-prep prawns are a fine choice for speedy solo suppers or a weekend family lunch. Read our guide for tips on preparing and cooking fish and seafood.
Discover our range of frozen fish
Keep a stash of great-value coley, pollock, raw king prawns or fish pie mix in the freezer, ready to defrost and use in traybakes, stir fries and pies.



10 reasons why you should eat more fish – and some of their health benefits
All Waitrose fish is responsibly sourced – that includes fresh, frozen and canned fish, plus ingredients in our own label ready meals, sandwiches and any other own label prepared food where fish is the main ingredient. 
All our fresh, frozen and canned tuna is certified by the Marine Stewardship Council.
Fish and shellfish are a good source of vitamins, minerals and protein. They have so many health benefits, the Food Standards Agency says a healthy diet should include at least two portions of fish a week.
One of your weekly portions should be an oily fish (such as salmon) that is high in longchain omega-3 fatty acids, helping to keep the heart healthy.
All varieties of white fish, including cod, haddock, sea bass and monkfish, are low in fat. Cod, for example, contains less than 1g fat per 100g. White fish is also high in protein.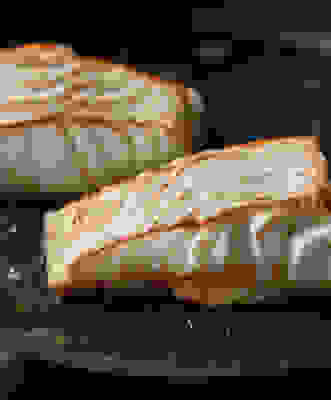 Fish rich in oil contain vitamin D, which is essential for calcium absorption. As well as salmon, oily fish include trout, fresh tuna, mackerel and anchovies.
Some oily fish, such as sardines, contain bones that you can eat. These are good sources of calcium and phosphorus, which can help keep your bones strong.
Fish can be cooked in a multitude of easy ways, including griddling, which is super-speedy, and grilling, which seals in flavour.
Fish only needs to be marinated for around 30-60 minutes. Making slits in the skin helps to lock in the flavour – add an extra drizzle of oil to make up for lost moisture while cooking.
Fish is quick to cook. Check the thickest part to see if it's done all the way through. It should be juicy but flaky, and completely opaque. Undercooked fish resists flaking and is translucent.