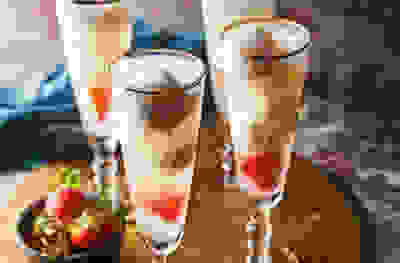 Lemon sgroppino with strawberries
Sgroppino is a drink from Italy's Veneto region. Nowadays it's more of an apéritif, but here, Diana Henry uses it as a dessert.
Serves

4

Course

Drink

Prepare

5 mins

Cook

-

Total time

5 mins
Please note that while we take every care to ensure the product and recipe information displayed on our website is correct, in the event that a product is unavailable, alternatives may be displayed and/or a substitution may be given. This may affect the nutrition and allergen information, therefore if you have any allergy or intolerance, please ensure you have reviewed the product label to ensure it is suitable for you to consume.
Ingredients
½

x 75cl bottle Prosecco or sparkling white wine, chilled

8

small strawberries

4

tbsp

lemon sorbet, plus more to add at the table, if liked
Method
Half-fill 4 tall Champagne glasses with Prosecco. The sorbet makes the Prosecco froth, so don't add any more at this stage. If the strawberries are small, put them into the drinks whole. If they're a bit bigger, hull and slice them. Add them to the glasses.

Drop a spoonful of lemon sorbet into each glass – don't make it too big. Top up the glasses with more Prosecco. You can add more lemon sorbet at the table if people want it.
Cook's tip
I've taken liberties here, as it is supposed to contain vodka and the whole drink – minus any fruit – should be whizzed in a blender. I like to see the strawberries floating below the sorbet, and let the sorbet gradually melt.
Book a slot to see product availability
To view what's in stock at your nearest Waitrose & Partners store, please book a slot
Add ingredients
View this recipe's ingredients and add them to your trolley