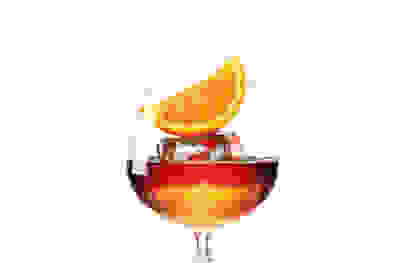 This brings a drink often associated with chilly evenings and crackling fires bang into summer, replacing the whisky with a chilled red and reducing the ABV in the process. Choose a light red for this, such as Waitrose Beaujolais Villages.
Serves

1

Course

Drink

Prepare

5 mins

Cook

-

Total time

5 mins
Please note that while we take every care to ensure the product and recipe information displayed on our website is correct, in the event that a product is unavailable, alternatives may be displayed and/or a substitution may be given. This may affect the nutrition and allergen information, therefore if you have any allergy or intolerance, please ensure you have reviewed the product label to ensure it is suitable for you to consume.
Ingredients
50

ml

Stone's Original Green Ginger Wine

50

ml

chilled red wine

1

orange wedge
Method
Add Stone's Original Green Ginger Wine to a brandy glass with a large ice cube. Pour chilled red wine gently over a spoon to get a float effect. Garnish with an orange wedge. Gently swirl the glass to mix before sipping.
Cook's tip
Make it lower ABV... Replace the wine with Thomson & Scott Noughty Alcohol-free Red Wine. 
Book a slot to see product availability
To view what's in stock at your nearest Waitrose & Partners store, please book a slot
Add ingredients
View this recipe's ingredients and add them to your trolley
Quantity of Large Orange in trolley 0
0 in trolley.
Item price
65p
Price per unit

65p each