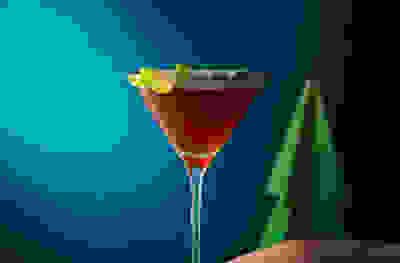 A sophisticated jumble of aromatics, this simple cocktail is so much more than the sum of its parts.
Serves

1

Course

Drink

Prepare

5 mins

Cook

-

Total time

5 mins
Please note that while we take every care to ensure the product and recipe information displayed on our website is correct, in the event that a product is unavailable, alternatives may be displayed and/or a substitution may be given. This may affect the nutrition and allergen information, therefore if you have any allergy or intolerance, please ensure you have reviewed the product label to ensure it is suitable for you to consume.
Ingredients
25

ml

Antica Formula Vermouth

25

ml

Cointreau triple sec

½

unwaxed lime, twist of pared zest, juice of all
Method
In a cocktail shaker, combine the vermouth, triple sec and lime juice. Fill with ice and shake until very cold, then strain into a martini glass. Serve with the twist of lime zest.
Book a slot to see product availability
To view what's in stock at your nearest Waitrose & Partners store, please book a slot
Add ingredients
View this recipe's ingredients and add them to your trolley
Quantity of Cointreau in trolley 0
0 in trolley.
Item price
£15.50
Price per unit

£31/litre