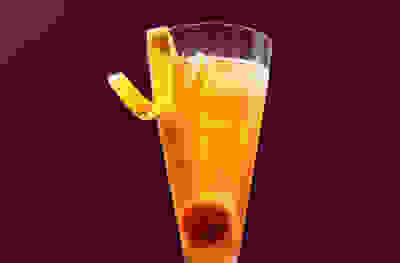 The contrast of bitters and sugar balances the ripe fruit and biscuity notes of the Champagne.
Nick Grimshaw prepared this recipe for Angela Hartnett and guest Dolly Alderton on episode 5, season 2 of Dish, the Waitrose podcast. It was served with this Tuscan-inspired fish stew.
Discover all recipes prepared by Angela Hartnett on seasons 1-3 of the Dish podcast. Dish is available on Apple Podcasts, Spotify or wherever you get your podcasts.
Serves

1

Course

Drink

Prepare

5 mins

Cook

-

Total time

5 mins
Please note that while we take every care to ensure the product and recipe information displayed on our website is correct, in the event that a product is unavailable, alternatives may be displayed and/or a substitution may be given. This may affect the nutrition and allergen information, therefore if you have any allergy or intolerance, please ensure you have reviewed the product label to ensure it is suitable for you to consume.
Ingredients
3

dashes Angostura Bitters

Waitrose Brut NV Champagne, to top up

1

lemon twist
Method
Soak a sugar cube in 3 dashes Angostura Bitters and drop into a flute. Top up with Waitrose Brut NV Champagne and garnish with a lemon twist.
Book a slot to see product availability
To view what's in stock at your nearest Waitrose & Partners store, please book a slot
Add ingredients
View this recipe's ingredients and add them to your trolley