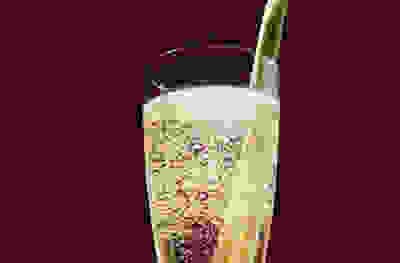 With 0% ABV wine
De-alcoholised fizz works too. This one has flavours of lime, rhubarb and a hint of red apples, with a kick of elderflower.
Serves

1

Course

Drink

Prepare

5 mins

Cook

-

Total time

5 mins
Please note that while we take every care to ensure the product and recipe information displayed on our website is correct, in the event that a product is unavailable, alternatives may be displayed and/or a substitution may be given. This may affect the nutrition and allergen information, therefore if you have any allergy or intolerance, please ensure you have reviewed the product label to ensure it is suitable for you to consume.
Ingredients
25

ml

Waitrose Elderflower Cordial

1

lemongrass stalk

Leitz Eins Zwei Zero Sparkling, to top up
Method
Pour 25ml Waitrose Elderflower Cordial into a flute. Add a stick of lemongrass and top up with chilled Leitz Eins Zwei Zero Sparkling.
Book a slot to see product availability
To view what's in stock at your nearest Waitrose & Partners store, please book a slot
Add ingredients
View this recipe's ingredients and add them to your trolley