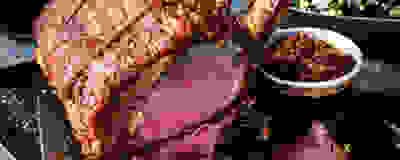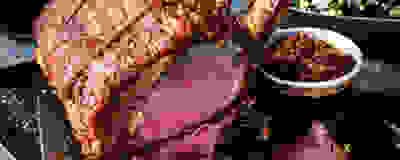 Britain's Favourite Roast Revealed
Culinary fashions come and go but our attachment to the roast dinner, with its perfect blend of comfort and spectacle, rarely wanes. And most of us have strong opinions about what constitutes the ideal Sunday spread: are Yorkshires just for beef? Which sauces are essential? Our exclusive poll reveals the nation's tastes.
A juicy joint of beef, tender pork with crispy crackling, succulent slow-roasted lamb, or a hearty nut roast...
Which is the nation's favourite?
There's a generational split too: beef is by far the most popular with the over-55s, while under-55s prefer chicken.
Women and younger people are even more likely to go meat-free and enjoy a veggie option.
"FOR ME, ROAST DINNER HAS TO BE BEEF! I ALWAYS SEAR THE MEAT IN A PAN BEFORE ROASTING, WHICH ENSURES IT HAS A GOOD CRUST. SERVE WITH PLENTY OF YORKSHIRE PUDDINGS AND HOT HORSERADISH".
Apple sauce and pork, horseradish and beef – classic partners you might say. So perhaps somewhat surprisingly, most people don't have any condiments other than gravy with their roast dinner, though there are a few who favour some rather unusual sauces.
Two people surveyed said they add chilli sauce, two opted for mayonnaise, and one dollops their plate with harissa.
20% of people love mint sauce
more than any other condiment, though of course many said it depended on the meat.
And in Northern Ireland, ketchup is the most enjoyed condiment, enthusiastically squeezed over Sunday lunch by 15.3%. 
Crispy roasties, colourful veg, and fluffy Yorkshire pudding sides can be just as much of a star as the meat.
But how many of us save Yorkies solely for beef, and which vegetable is an essential roast ingredient?
We have fully embraced the Yorkshire pudding, with 55.8% saying they should crown every
roast, whatever meat is on the plate
Forget oil or dripping, 23% say luxurious goose fat is their favourite way to cook roast potatoes
Carrots are the most-enjoyed root vegetable, picked by 45.9%
They're almost twice as popular as the next favourite, parsnips, loved by 25.6%
Surprisingly, sprouts are the most-loved green vegetable, chosen by 26.9%, followed by broccoli with 25.5%
"EXPERIMENT WITH YOUR SIDES. I LOVE ROAST CHICKEN WITH BAKED SWEET POTATOES AND A FRESH SLAW MADE USING HISPI CABBAGE, RED ONION CARROTS, YOGURT, MAYONNAISE AND WHOLEGRAIN MUSTARD".
We all love rustling something up from Sunday lunch leftovers, though nearly 20% of respondents never have anything left to pop in a sandwich – are they greedy, or just very good planners?
Other creative uses suggested included stir-frying leftovers into a Chinese-style meal such as chow mein, making them into curry, or serving for dinner the next day… to the dog.
For roast recipes, buying tips and cooking times, visit our ultimate
This survey was taken from Waitrose Food magazine. Free to myWaitrose members, you can pick up a copy in store, or view on the app